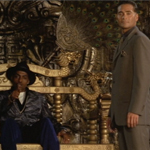 Some of the great western martial artists have a Hong Kong movie or two under their belts. Cynthia Rothrock did YES MADAM, ABOVE THE LAW, etc. For Brandon Lee it was LEGACY OF RAGE. Darren Shahlavi had TAI CHI II and IP MAN 2. Gary Daniels had CITY HUNTER. Scott Adkins was in that movie EXTREME CHALLENGE. Michael Jai White was in SILVERHAWK.  And of course Paul Rudd stars in GEN-X COPS 2: METAL MAYHEM.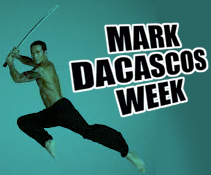 I've already noted the heavy Hong Kong cinema influence on Mark Dacascos movies including CRYING FREEMAN and DRIVE, but in this Hong Kong production filmed in Shanghai for the international market he actually got to be for-real directed and choreographed by the legendary Stanley Tong (SWORDSMAN 2, SUPERCOP, SUPERCOP 2, RUMBLE IN THE BRONX, FIRST STRIKE).
It was filmed in both English and Cantonese, so most of the characters don't seem dubbed. Dacascos plays the lead villain, Tony Lau, a young gangster who's trying to get his mentor Uncle Ma (Lau Siu-Ming, ABOVE THE LAW, A BETTER TOMORROW II, POLICE STORY 2) to add drug imports to his criminal portfolio. Uncle Ma is dead set against it – he's able to pay off the police partly because he stays away from drugs – but he agrees to meet with Tony's American friend (Coolio, BATMAN & ROBIN, DAREDEVIL) about it out of politeness. (read the rest of this shit…)
VERN has been reviewing movies since 1999 and is the author of the books SEAGALOGY: A STUDY OF THE ASS-KICKING FILMS OF STEVEN SEAGAL, YIPPEE KI-YAY MOVIEGOER!: WRITINGS ON BRUCE WILLIS, BADASS CINEMA AND OTHER IMPORTANT TOPICS and NIKETOWN: A NOVEL. His horror-action novel WORM ON A HOOK will arrive later this year.