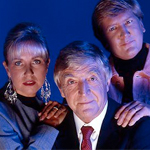 GHOSTWATCH is a famous 1992 BBC Halloween special which, like THE CONJURING 2, is based on the alleged ghosting incident known as "The Enfield Poltergeist." A mom and her two young daughters claimed to have a ghost they could hear knocking on the walls and bending their spoons and stuff. And there really was no way to disprove that this was a ghost, other than that they caught the kids faking it. Still, other than that, 100% for sure it was real ghosts and worthy of multiple true story movies and books.
While THE CONJURING goes through the motions of pretending to be based on a true story, GHOSTWATCH goes the extra mile and pretends to be a documentary. It takes the form of a live broadcast with an in-studio host (Michael Parkinson as himself), on a corny set decorated with skulls and crystal balls, interviewing a doctor (Gillian Bevan) who's supposed to have investigated the case. They have a bunch of screens to go via satellite to the house, where a reporter (Sarah Greene as herself) and camera crew are with the family talking about their story and hoping to document ghost activity. Also Red Dwarf's Craig Charles (playing himself) is the wacky comic relief reporter on the scene outside the house. And in the studio they also have a phone bank and take calls about people's ghost stories and stuff. (read the rest of this shit…)
VERN has a new action-horror novel out called WORM ON A HOOK! He has been reviewing movies since 1999 and is the author of the film criticism books Seagalogy: A Study of the Ass-Kicking Films of Steven Seagal and Yippee Ki-Yay Moviegoer!: Writings on Bruce Willis, Badass Cinema and Other Important Topics as well as the crime novel Niketown.