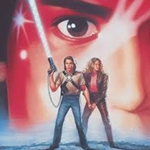 DEADLY WEAPON is another randomly-stumbled-across VHS rental. This one got my attention with a faded lenticular cover and warranted further investigation when I saw that it was written and directed by Michael Miner, the less-discussed co-writer of ROBOCOP, and stars a bonafide Dream Warrior, Rodney Eastman, aka Joey from A NIGHTMARE ON ELM STREET 3 and 4.
Caveat: It's produced by Charles Band.
The opening text of this 1989 low budget teen angst sci-fi tale explains that it takes place "in the mind of a fifteen year old boy." I guess that explains its cartoonishly broad idea of how people and relationships work. Eastman plays Zeke, a lonely teen who narrates in the third person, referring to himself as "The Visitor" because he's "a visitor from another galaxy." (Not really. That's his fantasy.) He lives in dusty King Bee, Arizona (Population 4,852) with an abusive alcoholic stepfather and is anxious to grow up and move out, so he says he "watched the skies waiting for a sign, some signal that everything was gonna be alright." (read the rest of this shit…)
VERN has a new action-horror novel out called WORM ON A HOOK! He has been reviewing movies since 1999 and is the author of the film criticism books Seagalogy: A Study of the Ass-Kicking Films of Steven Seagal and Yippee Ki-Yay Moviegoer!: Writings on Bruce Willis, Badass Cinema and Other Important Topics as well as the crime novel Niketown.