August 23, 1985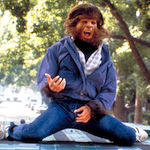 TEEN WOLF is another Summer of 1985 movie that I already reviewed but wanted to revisit. Now I feel like an asshole that I didn't find time to do the same for the much better movie LIFEFORCE, but life isn't fair, is it? I thought it might be interesting to look at TEEN WOLF in the context of the other teen-oriented movies of the time, including the other one with Michael J. Fox. I saw both BACK TO THE FUTURE and this one at the time (one drive-in, one indoors, I believe) but I did not remember that they came out only a few months apart.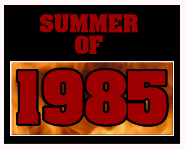 It was, in fact, a time of total and complete Foxamania sweeping the nation. He wasn't a movie star yet, having only done MIDNIGHT MADNESS and CLASS OF 1984, but was in his third season playing young Republican Alex P. Keaton on Family Ties. He was on a break from filming the show so Meredith Baxter Birney could give birth, and got the job to replace Eric Stoltz on BACK TO THE FUTURE during TEEN WOLF. So he was filming this during the day and BACK TO THE FUTURE at night. Meanwhile, The Cosby Show had started and brought way more viewers to the show playing after it. So basically this is Fox at the precise moment he was exploding from child actor to superstar, and at the exact same age as when we saw him as Marty McFly. On the same day, basically. (read the rest of this shit…)
VERN has a new action-horror novel out called WORM ON A HOOK! He has been reviewing movies since 1999 and is the author of the film criticism books Seagalogy: A Study of the Ass-Kicking Films of Steven Seagal and Yippee Ki-Yay Moviegoer!: Writings on Bruce Willis, Badass Cinema and Other Important Topics as well as the crime novel Niketown.