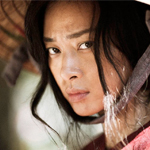 I sorta knew of Veronica Ngô Thanh Vân, a.k.a. Veronica Ngo, from CROUCHING TIGER, HIDDEN DRAGON: SWORD OF DESTINY (she played Mantis) and STAR WARS: THE LAST JEDI (she played Paige Tico, Rose's sister who dies heroically at the beginning). But now that I've seen her star in FURIE… holy shit. I'll have to see more.
This is a really good action vehicle because it introduces her as a cool, morally ambiguous anti-hero, then reveals her vulnerability, then throws her into a classical action scenario (kidnapped daughter, like COMMANDO or TAKEN) that leads to a whole lot of asskicking and stunt work but also inspires a layered, emotional acting performance. I'm completely ignorant of Vietnamese cinema and have no idea if this is representative at all, but it's like some of the action and some of the melodrama of a Thai martial arts movie, but much more organically fused into one thing. (read the rest of this shit…)
VERN has been reviewing movies since 1999 and is the author of the books SEAGALOGY: A STUDY OF THE ASS-KICKING FILMS OF STEVEN SEAGAL, YIPPEE KI-YAY MOVIEGOER!: WRITINGS ON BRUCE WILLIS, BADASS CINEMA AND OTHER IMPORTANT TOPICS and NIKETOWN: A NOVEL. His horror-action novel WORM ON A HOOK will arrive later this year.