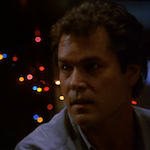 TURBULENCE is kind of an also-ran in the world of '90s studio thrillers. They used to put pretty big budgets into these mainstream action/thriller hybrids, especially if they starred Harrison Ford and/or Tommy Lee Jones. I guess psycho Ray Liotta is a little more low rent than that, and heroine Lauren Holly wasn't exactly a Jodie-Foster-sized marquee name (she was known for Picket Fences and DUMB AND DUMBER). But if Wikipedia is correct, the budget for this one was bigger than THE FUGITIVE, IN THE LINE OF FIRE, PATRIOT GAMES, THE NET or SPEED! So although most of the story is confined to one 747 it has plenty of scope. It feels like a big DIE HARD type production.
Or maybe I should say DIE HARD 2 – that's the movie I thought of when it was at the airport, with its attention to the pomp and circumstance of a law enforcement caravan arriving to search the plane before bringing prisoners aboard. It even takes place at Christmas, with Christmas music. Anyway, I have a soft spot for this type of movie. Any stupidity that may or may not be involved did not get in the way of my enjoyment of this one. (read the rest of this shit…)
VERN has a new action-horror novel out called WORM ON A HOOK! He has been reviewing movies since 1999 and is the author of the film criticism books Seagalogy: A Study of the Ass-Kicking Films of Steven Seagal and Yippee Ki-Yay Moviegoer!: Writings on Bruce Willis, Badass Cinema and Other Important Topics as well as the crime novel Niketown.