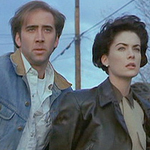 RED ROCK WEST is one of my favorite neo-noirs, an ingeniously concocted tale with a simple, appealing hero who makes one wrong choice that snags him and he has to spend the rest of the movie trying to crawl his way out of an ever-tightening trap. He's driving through the town of Red Rock, Wyoming when it goes down, so every time he gets out and then something else goes wrong we share his dismay at passing that god damn "Welcome to Red Rock" sign once more.
Well before all the thrilling twists and tense (but down to earth) set pieces, director John Dahl (THE LAST SEDUCTION, ROUNDERS, JOY RIDE) wins me over with an A+ overture of visual storytelling that establishes Michael (Nic Cage)'s hard times and integrity. We meet him waking up in his car on the side of a farm road, shaving, smelling the shirt he takes out of the trunk to make sure it's not too bad, looking in the window reflection as he tucks it in, preparing to try to make a good impression. We also see his USMC tattoo, even before he starts doing shirtless one-arm push-ups. This will be relevant.
He's broke and having trouble finding a job and has a bum knee brought back as a souvenir from Lebanon but he's an honest man, not looking for any shortcuts. Not until he stops at a bar and his timing and Texas plates cause the owner, Wayne (the great J.T. Walsh, BREAKDOWN, EXECUTIVE DECISION) to mistake him for "Lyle from Dallas" who was supposed to be here last week for a job. Michael plays along, which seems like a promising trick for the few minutes before he realizes the job is to murder Wayne's wife Suzanne (Lara Flynn Boyle, POLTERGEIST III). So it's neither a line of work he's interested in or the type where you can just put in your two weeks notice and be on your way. (read the rest of this shit…)
VERN has a new action-horror novel out called WORM ON A HOOK! He has been reviewing movies since 1999 and is the author of the film criticism books Seagalogy: A Study of the Ass-Kicking Films of Steven Seagal and Yippee Ki-Yay Moviegoer!: Writings on Bruce Willis, Badass Cinema and Other Important Topics as well as the crime novel Niketown.