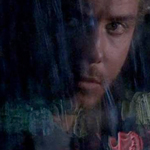 Michael Mann feature #4 is MANHUNTER. Instead of a moody portrait of a thief like in THIEF he does one of a profiler trying to identify a serial killer. This is of course Mann's adaptation of Thomas Harris's Red Dragon, the pre-SILENCE OF THE LAMBS story of a guy chasing a killer called "The Tooth Fairy" after having caught Hannibal Lecktor (that's how they spell it when he's played by Brian Cox). William Petersen (THE SKULLS) plays Will Graham, who FBI agent Jack Crawford (Dennis Farina, CODE OF SILENCE) nudges into the investigation by showing him some crime scene photos and making him feel bad. That was a pretty shitty thing to do because Will is just starting to get his life back together after getting inside the mind of Lecktor also got him inside the rooms of a mental hospital.
"You're supposed to be his friend. Why didn't you leave him alone?" Will's wife Molly (Kim Greist, C.H.U.D.) asks resignedly. (read the rest of this shit…)
VERN has a new action-horror novel out called WORM ON A HOOK! He has been reviewing movies since 1999 and is the author of the film criticism books Seagalogy: A Study of the Ass-Kicking Films of Steven Seagal and Yippee Ki-Yay Moviegoer!: Writings on Bruce Willis, Badass Cinema and Other Important Topics as well as the crime novel Niketown.