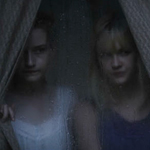 WE ARE WHAT WE ARE (2013), like THE TEXAS CHAIN SAW MASSACRE, uses cannibalism as a stand-in for any unfortunate family traditions that are passed down through the generations long past their shelf date. In this case the Parker family continues a practice that should've expired immediately after their ancestors did it the first time in a Donner Party survival type situation. Now it's gussied up as a religious act to be repeated yearly as "Lamb's Day," and the Parkers hold onto an ignorant belief that they'll get sick if they don't do it.
This is told mostly from the family's perspective, and they're not some weirdo Leatherfaces. To them it's, like, a family doesn't just stop celebrating Christmas one year. The Parkers are gonna eat a bowl of human chili on Lamb's Day. It's how they were raised. (read the rest of this shit…)
VERN has a new action-horror novel out called WORM ON A HOOK! He has been reviewing movies since 1999 and is the author of the film criticism books Seagalogy: A Study of the Ass-Kicking Films of Steven Seagal and Yippee Ki-Yay Moviegoer!: Writings on Bruce Willis, Badass Cinema and Other Important Topics as well as the crime novel Niketown.