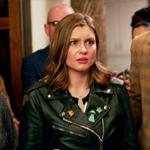 In SATANIC PANIC – a new Fangoria Films release that came out on disc this week after film festival and VOD runs – Sam (Hayley Griffith) is working her first shift delivering pizzas. She's completely broke and low on gas, and her skeevy co-workers stick her with deliveries to a notoriously stingy neighborhood. This would be shitty, but not disastrous, if only she didn't get desperate and storm into a mansion to demand a tip… during a satanic sacrifice ritual to raise the demon Baphomet. See, it's a time sensitive full moon thing, they're short one virgin, and through contrived but humorous dialogue they figure out that Sam fits the bill. So she's gonna have bigger problems than lack of gas money.
You know I'm a sucker for these class tension stories. Sam works for $2.30 an hour plus tips and these upper class assholes refuse to chip in – just as Lucifer would want it. Danica Ross (Rebecca Romijn, FEMME FATALE) leads the coven, a villainous type of role I've never seen her in, and she clearly has a fun time. Even better is her squeaky-voiced hippie-turbaned rival Gypsy Neumieir (Arden Myrin, Mad TV), whose disagreements with Danica's blood sacrifice plans play like some drama at the planning committee for a pancake social. (read the rest of this shit…)
VERN has a new action-horror novel out called WORM ON A HOOK! He has been reviewing movies since 1999 and is the author of the film criticism books Seagalogy: A Study of the Ass-Kicking Films of Steven Seagal and Yippee Ki-Yay Moviegoer!: Writings on Bruce Willis, Badass Cinema and Other Important Topics as well as the crime novel Niketown.