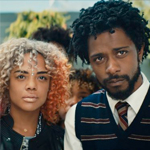 SORRY TO BOTHER YOU is an absurd, inventive new comedy that's so playful and funny that its acidic satire of soul-crushing capitalism comes across a little more like an inspirational rallying cry than blind fury at a seemingly insurmountable wall of corporate greed and dehumanization. Though it's that too.
If I was required by law to describe it in terms of movies that already exist, I'd say "low-wage OFFICE SPACE by way of Michel Gondry." But fuck the law, because it feels like something very new, distinctive and of the moment, from the cast headed by Lakeith Stanfield and Tessa Thompson to the soundtrack to even the cool fonts and logos by children's book illustrator J. Otto Seibold. Stanfield plays Cassius Green (yes, it's a pun), who lives in his uncle (Terry Crews, STREET KINGS)'s garage until he finds his calling (oh shit, another pun) at a new telemarketing job. I mean, the place is a hellhole on the verge of a strike led by Squeeze (Steven Yeun, formerly of The Walking Dead), but he turns out to be really good at it after co-worker Langston (Danny Glover, PREDATOR 2) teaches him the secret of the "white voice." It's not mere code-switching, but a near supernatural channeling of a voice with no worries that he manifests by being dubbed by David Cross (ALVIN AND THE CHIPMUNKS). It's a broad and hacky joke made almost profound by its layers of subtext and power to creep out his friends and loved ones. (read the rest of this shit…)
VERN has been reviewing movies since 1999 and is the author of the books SEAGALOGY: A STUDY OF THE ASS-KICKING FILMS OF STEVEN SEAGAL, YIPPEE KI-YAY MOVIEGOER!: WRITINGS ON BRUCE WILLIS, BADASS CINEMA AND OTHER IMPORTANT TOPICS and NIKETOWN: A NOVEL. His horror-action novel WORM ON A HOOK will arrive later this year.