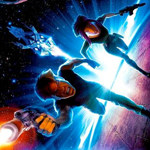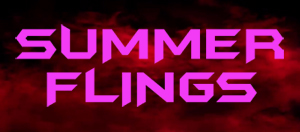 June 16, 2000
Just before a race of alien energy-beings called the Drej blow up the Earth, Errol Flynn looking scientist hero Sam Tucker tosses his towheaded son Cale on an evacuation shuttle with Tone Lōc and goes off to fly a ship called the Titan on a mission to save the human race. He gives the boy a ring and it's obvious to the audience that it will be the key to saving humanity but jesus christ dude make it clear to the kid! All he says is "Take this. As long as you wear it, there's hope." it's a god damn miracle that he still has it when we pick up 15 years later. What in the hell were you thinking you god damn idiot, don't be subtle about this shit.
So, grown up Cale (Matt Damon, THE DEPARTED) is some kind of space-iron-worker, a roughneck working class dude from Colorado, gettin it done on the outsides of ships and stuff, but he still has the same dumb '90s boy band haircut from childhood. Since most humans are dead he's a minority living among a bunch of creatures who eat food that he thinks is gross. So when a square-jawed Earthling captain and contemporary of his father named Korso (Bill Pullman, CASPER) comes to find him, you can see why he eventually agrees to join him on a mission to find the Titan. (read the rest of this shit…)
VERN has a new action-horror novel out called WORM ON A HOOK! He has been reviewing movies since 1999 and is the author of the film criticism books Seagalogy: A Study of the Ass-Kicking Films of Steven Seagal and Yippee Ki-Yay Moviegoer!: Writings on Bruce Willis, Badass Cinema and Other Important Topics as well as the crime novel Niketown.