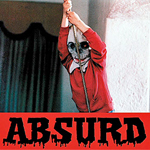 a.k.a.
ROSSO SANGUE
HORRIBLE
ZOMBI 6: MONSTER HUNTER (!?)
ABSURD is a pretty standard Italian take on a HALLOWEEN-ish slasher plot – outrageous gore, decent Goblin-esque prog-rock score by Carlo Maria Cordio (PIECES, MIAMI COPS, CURSE II: THE BITE, TROLL 2), thin characters, lots of boring scenes of people standing around dryly talking about what's going on, crazy ending.
It begins with two men running: a priest (Edmund Purdom, the dean in PIECES) and a bearded Ron Silver looking guy in jeans and a manly belt buckle (George Eastman, EROTIC NIGHTS OF THE LIVING DEAD, STAGEFRIGHT). The bearded guy climbs over a tall wrought iron fence and shows up on some rich people's doorstep with a big glob of intestines dripping out of a belly wound. (read the rest of this shit…)
VERN has been reviewing movies since 1999 and is the author of the books SEAGALOGY: A STUDY OF THE ASS-KICKING FILMS OF STEVEN SEAGAL, YIPPEE KI-YAY MOVIEGOER!: WRITINGS ON BRUCE WILLIS, BADASS CINEMA AND OTHER IMPORTANT TOPICS and NIKETOWN: A NOVEL. His horror-action novel WORM ON A HOOK will arrive later this year.