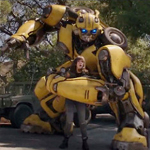 Weird, but true: turns out you can make a TRANSFORMERS movie that's sweet and funny, with sensible, reasonably concise storytelling that never feels like it's whacking you in the face with a frying pan, and has characters you can care about. Even a human female one! All you gotta do is get the director of KUBO AND THE TWO STRINGS and a script by Christina Hodson (SHUT IN, BIRDS OF PREY).
Michael Bay and Steven Spielberg are both listed as executive producers, but BUMBLEBEE definitely feels more like the latter, taking heaps of inspiration from E.T. THE EXTRA-TERRESTRIAL but none that I noticed from ARMAGEDDON. Set in 1987, it does work as a prequel to Bay's TRANSFORMERS (2007), telling the story of a soldier robot who flees the war on his home planet of Cybertron to hide out in California disguised as a car and wait for the others while evading the secret government agency Sector 7 and two evil Decepticon robots voiced by Angela Bassett (STRANGE DAYS) and Justin Theroux (MIAMI VICE).
But that's all going on in the midst of a teen movie centering on Charlie Watson (Hailee Steinfeld, 3 DAYS TO KILL), who has just turned 18 and has been going through some shit ever since her dad (Tim Martin Gleason) died suddenly an unspecified few years ago. She resents that her mom (Pamela Adlon, THE ADVENTURES OF FORD FAIRLANE) has a dorky new husband (Stephen Schneider, 2012: SUPERNOVA), she fights with her little brother Otis (Jason Drucker, BARELY LETHAL) and gets into it with mean girls like Tina (Gracie Dzienny) and hunky asshole Tripp Summers (Ricardo Hoyos, Degrassi: The Next Generation) who embarrass her while she's working at Hot Dog on a Stick. Not necessarily unrelated, her favorite band is The Smiths. (read the rest of this shit…)
VERN has a new action-horror novel out called WORM ON A HOOK! He has been reviewing movies since 1999 and is the author of the film criticism books Seagalogy: A Study of the Ass-Kicking Films of Steven Seagal and Yippee Ki-Yay Moviegoer!: Writings on Bruce Willis, Badass Cinema and Other Important Topics as well as the crime novel Niketown.