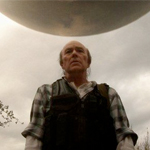 PHANTASM RAVAGER is the apparent conclusion to Don Coscarelli's PHANTASM saga, now available on VOD and very limited theatrical release. It doesn't necessarily feel like it has to be the last one, but they probly wouldn't want to continue without Tall Man Angus Scrimm, who passed away after filming.
This one focuses entirely on Reggie (Reggie Bannister), the ice cream man/singer-songwriter turned four-barrel-shotgun-toting warrior drifter who started as the adult friend to the young protagonist, Mike (A. Michael Baldwin). We first find him falling through a portal back to earth in a stretch of desert somewhere. The badass opening sequence recalls MAD MAX as he scavenges wreckage in a seemingly unpopulated area, has to get back his missing Barracuda and then is involved in a high speed chase with the famous silver balls that fly around trying to stab or drill people's heads. While this chapter does suffer from some phony digital gore, that's thankfully not the case with the many incidents of balls digging into people's skulls and spewing geysers of grue out their exhaust valves like water out the back of a jet ski. (read the rest of this shit…)
VERN has a new action-horror novel out called WORM ON A HOOK! He has been reviewing movies since 1999 and is the author of the film criticism books Seagalogy: A Study of the Ass-Kicking Films of Steven Seagal and Yippee Ki-Yay Moviegoer!: Writings on Bruce Willis, Badass Cinema and Other Important Topics as well as the crime novel Niketown.