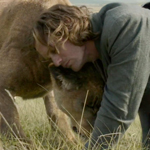 I've said it before and I'll say it again: THANK YOU studios for continuing to make these expensive old-timey adventure character movies even though they are always financially disastrous. I for one appreciate the gesture!
Of this type of movie, Gore Verbinski's THE LONE RANGER is far and away the most entertaining and masterful. THE LEGEND OF TARZAN is closer to the level of the last major Edgar Rice Burroughs adaptation, Andrew Stanton's JOHN CARTER. It's a little slicker than that one, but also a little more normal since it takes place on Earth with Earth type animals. Yet it's not what I expected at all. It knows that you already know the basics about Tarzan, so it tries to walk that delicate line of giving you a different spin without sacrificing the classic Tarzan shit you expect. It also tries to capture some of the feel of stories written a hundred years ago while looking at matters of race, gender and culture with today's eyes. And it does these things fairly successfully.
In the opening we meet Leon Rom (Christoph Waltz, INGLOURIOUS BASTERDS, THE GREEN HORNET), a cruel Belgian mercenary searching for the fabled diamonds of Opar, and Mbonga (Djimon Hounsou, AMISTAD, LARA CROFT: TOMB RAIDER: THE CRADLE OF LIFE), a menacing cheetah-masked Chief willing to trade the diamonds for the capture of his greatest enemy, name-withheld-but-cut-to-the-title-THE-LEGEND-OF-TARZAN®. (read the rest of this shit…)
VERN has a new action-horror novel out called WORM ON A HOOK! He has been reviewing movies since 1999 and is the author of the film criticism books Seagalogy: A Study of the Ass-Kicking Films of Steven Seagal and Yippee Ki-Yay Moviegoer!: Writings on Bruce Willis, Badass Cinema and Other Important Topics as well as the crime novel Niketown.