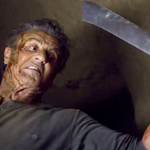 You remember Rambo, John J. Vietnam vet, Green Beret, POW camp survivor, Congressional Medal of Honor recipient. In '81, as a homeless drifter, he waged a one-man guerrilla war against the police department of Hope, Washington, wounding several officers, killing police dogs, blowing up buildings and causing one officer to die from falling out of a helicopter. But they let him out of prison for a secret POW rescue mission. Though he earned a presidential pardon, he decided to live in Thailand, living off odd jobs such as stickfighter, temple-builder, snake-catcher or river guide, with occasional missions to help the Mujahideen in Afghanistan or rescue missionaries in Myanmar. But eventually he came home to his dad's place in Arizona.
It doesn't seem like it, but that movie was 11 years ago. Rambo has short hair now, wears cowboy hats and runs his (now deceased) dad's horse ranch. He lives with a woman named Maria (Adriana Barraza, AMORES PERROS, DRAG ME TO HELL), who I guess the photos on the wall indicate was his parents' maid, and her granddaughter Gabrielle (Yvette Monreal from the El Rey show Matador), who calls him Uncle John and who he says he thinks of as his daughter. (read the rest of this shit…)
VERN has a new action-horror novel out called WORM ON A HOOK! He has been reviewing movies since 1999 and is the author of the film criticism books Seagalogy: A Study of the Ass-Kicking Films of Steven Seagal and Yippee Ki-Yay Moviegoer!: Writings on Bruce Willis, Badass Cinema and Other Important Topics as well as the crime novel Niketown.