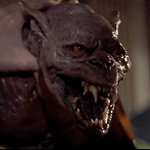 I remember thinking FRIGHT NIGHT was pretty good in the '80s, but honestly I was skeptical that it would hold up as well as its reputation. I should never have doubted! Writer and first time director Tom Holland (CHILD'S PLAY) revived the classical style of vampire tale for 1985, now souped up with some of the hallmarks of the era: quirky teen comedy, postmodernism/nostalgia, and most of all imaginative, gooey, wonderful creature effects. I was surprised by how much of that last one we get.
This is the age of home video and having a TV in your bedroom, so our teen protagonist Charley Brewster (William Ragsdale, ROAD HOUSE 2: LAST CALL, Justified) is very familiar with horror movies, having watched many of them as presented by the local horror host and former star of Hammer-esque vampire films Peter Vincent (Roddy McDowall, CLASS OF 1984 [which was written by Holland]). In the opening scene he's got Vincent's show "Fright Night" on in the background while he attempts to make out with his reluctant girlfriend Amy (Amanda Bearse, Married… with Children). Then he happens to look out his window and sees his new next door neighbor Jerry Dandridge (Jack Skellington himself, Chris Sarandon) getting it on with a woman who is found murdered the next day. After some spying Charley sees Jerry turn into a bat and have fangs and claws and suck blood, so he determines that Jerry is a vampire who is luring women to his house and killing them. For some reason nobody believes him. (read the rest of this shit…)
VERN has a new action-horror novel out called WORM ON A HOOK! He has been reviewing movies since 1999 and is the author of the film criticism books Seagalogy: A Study of the Ass-Kicking Films of Steven Seagal and Yippee Ki-Yay Moviegoer!: Writings on Bruce Willis, Badass Cinema and Other Important Topics as well as the crime novel Niketown.