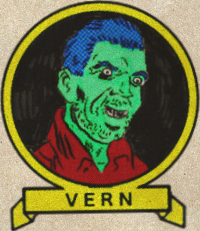 Well! Heh, heh! Hello there boys, ghouls and non-DIE-naries. It's me again, your voluble villain of vivacious vicarious violence, Vern! I don't tend to review the anthologies nearly as much as other types of horror, but this year two of the SCREAM-ing services have new ones that seemed promising. So I've prepared for you an anthology of anthologies, a little two-headed review I call THE PAIR-ER OF TERROR!
Hulu's BOOKS OF BLOOD and Shudder's THE MORTUARY COLLECTION both find fresh ways to deal with the horror host/wraparound story tradition. THE MORTUARY COLLECTION is formatted as stories told by creepy old mortician Montgomery Dark (Clancy Brown, PET SEMATARY II) – he looks like The Tall Man from PHANTASM – to Sam (Caitlin Custer, Teen Wolf), a young woman he's interviewing for a job. I like that some of the stories had me thinking, "Well, that's a pretty simplistic moralistic kind of ironic ending" and then Sam would point out as much, to Montgomery's increasing frustration. And then the last and best segment is a story about Sam, ending with a great twist that leads into the wraparound finale, which really works as the climax of the movie and not just a wrap up.
BOOKS OF BLOOD sort of does the whole thing in reverse – instead of establishing up front what the stories are (comic books, campfire tales, etc.) they unfold and explain at the end what they're all about, like an origin story. If you're familiar with Clive Barker's short story collections of the same name you know what that means (SPOILER: they're the stories of the dead whose names are carved into a guy's flesh.)
VERN has a new action-horror novel out called WORM ON A HOOK! He has been reviewing movies since 1999 and is the author of the film criticism books Seagalogy: A Study of the Ass-Kicking Films of Steven Seagal and Yippee Ki-Yay Moviegoer!: Writings on Bruce Willis, Badass Cinema and Other Important Topics as well as the crime novel Niketown.