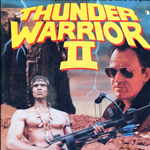 Writer/director Fabrizio De Angelis and star Mark Gregory brought us THUNDER WARRIOR II (a.k.a. THUNDER II) two years later, in 1985, and it presumably takes place about that much later. Although Thunder went on an arrow/explosive/bulldozer/bazooka rampage, paralyzed a cop, destroyed some cop cars, leveled a couple buildings, and faked his death, he's just casually back in town at a bar for some reason.
It's exactly the kind of violent biker bar that's in every movie like this, except for some reason a normal couple with a pre-teen son are there trying to eat dinner. The mom attempts to ignore the mob of drunk bikers loudly sexually harassing her, but the dad convinces her it's time to leave, which kicks off a scuffle where the kid is about to be beat up until Thunder intervenes and takes on the entire gang almost by himself (he has a little help from a Native old timer who's good with knives).
I want to point out that the bartender at this place really sucks. He watches the whole thing go down and makes no effort to keep things under control, not even a meek "Hey guys, cool it." Then when the brawl starts he calls the police on Thunder. My Yelp review will not be forgiving. (read the rest of this shit…)
VERN has been reviewing movies since 1999 and is the author of the books SEAGALOGY: A STUDY OF THE ASS-KICKING FILMS OF STEVEN SEAGAL, YIPPEE KI-YAY MOVIEGOER!: WRITINGS ON BRUCE WILLIS, BADASS CINEMA AND OTHER IMPORTANT TOPICS and NIKETOWN: A NOVEL. His horror-action novel WORM ON A HOOK will arrive later this year.