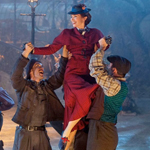 I'm usually an optimist, but I had no confidence at all in Rob Marshall directing a sequel to MARY POPPINS, despite the obviously well-cast Emily Blunt (THE WOLFMAN). I'm happy to report, though, that all involved did a great job and MARY POPPINS RETURNS is a warm and enjoyable revival of old school Walt Disney cornball musical family entertainment, for those who might be interested in such a thing.
I really didn't know what I was talking about with Marshall, to be honest. I've never even seen his Academy Award winning CHICAGO. But I was so bored watching PIRATES OF THE CARRIBEAN: ON STRANGER TIDES that it completely put me off a series I had loved up until that point. I didn't trust him taking a crack at this much more sacred Disney ground, especially with a script from the guy that did fuckin FINDING NEVERLAND. But in retrospect Marshall had pretty good qualifications for this one. I've subsequently learned of his love for MARY POPPINS as the first movie he remembers seeing, his seriousness about honoring the original tone and using material from the P.L. Travers books, that he had Marc Shaiman (MY GIANT) start recording the score beforehand so he could play it while filming, and that he got the cast to rehearse the song and dance numbers for months, something he took from his days as a dancer and choreographer for the stage. Having seen it, all of that makes sense. (read the rest of this shit…)
VERN has been reviewing movies since 1999 and is the author of the books SEAGALOGY: A STUDY OF THE ASS-KICKING FILMS OF STEVEN SEAGAL, YIPPEE KI-YAY MOVIEGOER!: WRITINGS ON BRUCE WILLIS, BADASS CINEMA AND OTHER IMPORTANT TOPICS and NIKETOWN: A NOVEL. His horror-action novel WORM ON A HOOK will arrive later this year.