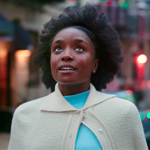 After MOONLIGHT I was gonna see the new Barry Jenkins movie no matter what. Didn't have to ask what it was about. Probly wouldn't sound like my thing anyway. If I had asked, the answer might've been something like "in early '70s Harlem, a young woman and her family try to clear her fiance who has been falsely accused of rape." But that would've been misleading because it's not at all a thriller or a legal drama. There aren't any plot twists or shocking revelations. We never see a courtroom. The background is the inescapable, self-perpetuating undertow of an unequal justice system, but the foreground is a story about love, not just between this couple but between them and their families.
Like MOONLIGHT it's gorgeously lit and photographed by James Laxton (YOGA HOSERS), has thick mood and atmosphere, a strong sense of the character of its setting, and a cast full of revelatory performers, people you just want to be around, faces you want to (and get to) stare at in vivid closeup. The two lovers, Tish Rivers (KiKi Lane making a great debut) and Fonny Hunt (Stephan James, who played John Lewis in SELMA and Jesse Owens in RACE), absolutely beam with infatuation. We hear a little bit about them growing up as best friends, but we don't need it. Their eyes tell us how enamored they are of each other.
But Fonny is, as Tish puts it, "behind glass" when she brings him news that they're going to have a baby. And not for the last time we will hear firm, assurances that things will be okay, people will stick together, odds will be overcome. (read the rest of this shit…)
VERN has a new action-horror novel out called WORM ON A HOOK! He has been reviewing movies since 1999 and is the author of the film criticism books Seagalogy: A Study of the Ass-Kicking Films of Steven Seagal and Yippee Ki-Yay Moviegoer!: Writings on Bruce Willis, Badass Cinema and Other Important Topics as well as the crime novel Niketown.