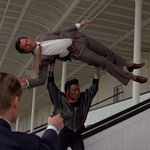 May 24, 1985
On the subject of James Bond movies I'm ignorant. A very casual viewer. I come to A VIEW TO A KILL as an ordinary civilian perusing the films of Summer 1985 and hoping this could be a good action movie for its era. According to publicly available data, it is the seventh and final of Roger Moore's outings as 007. All of his except THE MAN WITH THE GOLDEN GUN were summer releases like this, attempting to fulfill that popcorn blockbuster kind of slot, drawing in regular chumps like me along with the generations of die hards.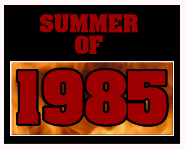 Last year I reviewed LICENCE TO KILL in my summer of '89 series and it was cool how much that one combined the standard Bond material with the tropes of '80s action movies, to the point that he turned in his badge to go get revenge on a South American druglord played by Robert Davi. During the opening credit sequence of A VIEW TO A KILL I could imagine it being a very 1985 Bond in a similar way, and for that brief moment it was beautiful. (read the rest of this shit…)
VERN has been reviewing movies since 1999 and is the author of the books SEAGALOGY: A STUDY OF THE ASS-KICKING FILMS OF STEVEN SEAGAL, YIPPEE KI-YAY MOVIEGOER!: WRITINGS ON BRUCE WILLIS, BADASS CINEMA AND OTHER IMPORTANT TOPICS and NIKETOWN: A NOVEL. His horror-action novel WORM ON A HOOK will arrive later this year.