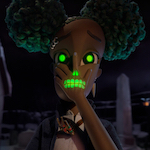 Henry Selick, the director of THE NIGHTMARE BEFORE CHRISTMAS, just made his first movie in thirteen years. Stop motion animation takes a long time, of course, but not usually that long. (With the exception of MAD GOD.)
It's not like he took a vacation. Only a year after CORALINE Selick moved from Laika to Pixar to start a new stop motion division called Cinderbiter. They actually animated much of a movie called THE SHADOW KING – $50 million worth – and then cancelled it. And then he developed a bunch of other movies with a bunch of other people that didn't even get that far.
But now, finally, he has a new, completed and released one called WENDELL & WILD. He wrote it with Academy Award winning screenwriter Jordan Peele, it stars the voices of Key and Peele, it's about demons and zombie skeletons and shit, and it has Selick's eye for design and increasingly sophisticated stop motion, so it's the kind of thing some people ought to be interested in, in my opinion. Only trouble is it was produced by Netflix, so they just squirted it out in a little glob exactly like Wendell & Wild squirt the cream that grows their father's nose hairs (more on that later), so most of the people I've mentioned it to never heard of the fuckin thing. I read that it didn't even make it into Netflix's top ten when it came out, but the computer animated movie THE BAD GUYS did a couple days later when they picked it up after it had already been on DVD, blu-ray and Peacock for five months.
That doesn't seem fair. I figured I should write a review just so it's on record somewhere that WENDELL & WILD is a real, existent movie that was made and released and can be viewed with your eyes and everything. (read the rest of this shit…)