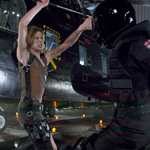 RESIDENT EVIL: APOCALPYSE is the second one. Part 1's Paul W.S. Anderson scripted it, but handed directing duties over to Alexander Witt (the second unit director for SPEED and the train heist in FAST FIVE) while he himself focused on ALIEN VS. PREDATOR, and it reminds me a little bit of the sequel to Anderson's MORTAL KOMBAT: it's way less like a real movie, but therefore kind of more fun. This sequel looks much more expensive than the original – there are huge crowd scenes, explosions and shootouts, it's not all confined to some underground tunnels. It's a chaotic mish-mash of styles (normal movie, shaky news footage, blurred frames) and crazy shit happening, often without much regard to rhythm, flow, or logic.
It starts out with a couple minutes of Alice (Milla Jovovich, HE GOT GAME) narrating exposition over flashy computer graphics, but as soon as the title comes up it ditches her and we go back to the day before in happy suburban Raccoon City while the T-virus crisis is going on underground. A menacing procession of identical Umbrella Corp SUVs plow through the streets to bring important scientists to safety. But Dr. Ashford (Jared Harris, NATURAL BORN KILLERS, THE BOXTROLLS)'s daughter Angie (Sophie Vavasseur) is in a vehicle that crashes, and she gets stranded above.
We meet Raccoon City's militarized police force as well as a special unit called S.T.A.R.S. ("Special Tactics and Rescue Squad. They're the best"). These are cops who do things like rappel from a helicopter facing straight down firing two machine guns accompanied by rockin electric guitar soundtrack. The kind of people you want, I guess, in a movie version of a video game version of a zombie outbreak. The most memorable of these characters is a wonderfully ludicrous one called Jill Valentine (Sienna Guillory, HIGH-RISE), an edgy suspended cop who looks like a model but luckily switches from stilettos to combat boots when she learns about the zombies from the news and goes into action. She spends the movie wearing a turquoise tube top, mini-skirt and holsters. There's nothing wrong with that, but everyone else looks like they're wearing movie costumes, and she looks like a cosplayer.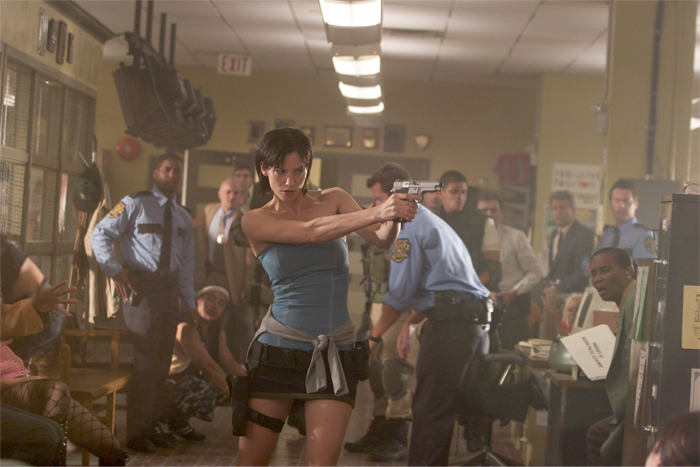 (read the rest of this shit…)