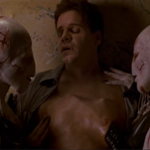 You know me, I'm fascinated by DTV sequels. They're an interesting in-between medium, a way to get movies made with enough name recognition to make money but not enough to spend money on. There are some that are an enjoyable use of the format (DARKMAN III, FROM DUSK TILL DAWN 2), some that are completely legit theatrical-worthy movies (CURSE OF CHUCKY), and even a few that are better than their theatrical forebears (the Hyams UNISOLs, the Florentine UNDISPUTEDs, THE MARINE 2).
But the HELLRAISER movies – something about them always seemed off limits to me. The Clive-Barker-executive-produced theatrical series ended shamefully in Weinstein-induced Alan Smitheedom, and I never got the impression that the DTV sequels were either a sincere attempt to revive the magic or a ridiculous enough bastardization to get a kick out of. Like, I don't think they have one where Pinhead joins a biker gang or has to take care of a precocious little girl and learns how to love. So over 15 long years I have turned my back on five DTV sequels to HELLRAISER.
Until now. For some reason. Wish me luck. I opened the box.