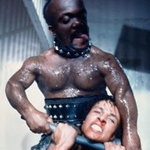 Well holy shit. I've taken my sweet time getting to all three of Jamaa Fanaka's PENITENTIARY movies, but they've all lived up to my hopes. If you're not familiar, they star Leon Isaac Kennedy (LONE WOLF McQUADE) as Martel "Too Sweet" Gordone, a man who is unjustly incarcerated but becomes a legend in the prison boxing circuit. I'm sure it's an inspiration for the UNDISPUTED series, but Fanaka's world is angrier, dirtier, and much, much weirder.
Released in 1979, PENITENTIARY was actually the third movie Fanaka made while attending UCLA. Unlike other directors considered part of the L.A. Rebellion film movement, he was more attracted to Hollywood than to political statements, so he made straight up lurid and entertaining blaxploitation movies. But racism, cruelty and injustice are central to his stories.
PENITENTIARY II (1982) brings the action into the outside world, and it's a little slicker and more expensive, so it features Mr. T and Ernie Hudson.
But PENITENTIARY III (1987) is a Cannon Film. It is not fucking around. It would be an exaggeration to say that Cannon did to the PENITENTIARY series what they did to THE TEXAS CHAIN SAW MASSACRE with part 2, but there's definitely a hint of that sort of unhinged insanity. We find Too Sweet still a free man, competing as a legitimate boxer, when his corner man is paid off to put something in his water. (That he looks over his shoulder nervously and then just openly pours something into the water in front of an audience without anyone noticing is one of many goofy touches.) (read the rest of this shit…)