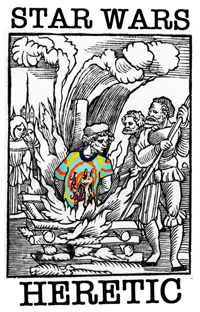 Warning: I'm about to dive deep into the Nerd Shit. It could be upsetting to nerdiness sensitive readers. This is to be read by serious Star Wars people only. Unfortunately they aren't gonna like what I have to say either. Sorry everyone.
Sometimes you get together with some friends, one thing leads to another, you end up watching THE PHANTOM MENACE on blu-ray again… you know how it is. All the sudden you get a late night notion about the Star Warses that you decide needs to be said because you know for god damn sure nobody else is gonna say it. And that's what I've decided to do here.
I'm afraid this is not me playing devil's advocate. This is my sincere opinion. And I swear it, friends, I'm not trying to be a contrarian, I'm not trying to get attention. I'm just being honest. To prove it I didn't give this post the "wh-wh-WHUT!?" spit take click bait headline it could have: Why Hayden Christensen Should Be In Episode VII, But They Don't Have the Balls To Do It. Don't go spreading it around, but that is my thesis.
Hear me out, fellas. I'm gonna lay out my argument below, and you can do as thou wilt.
(read the rest of this shit…)