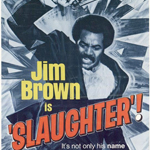 "Badass, huh? Well I hope you're better with that knife than you were with that big black car. 'Cause I'ma jam it up your ass."
Jim Brown was a black action star before blaxploitation. He'd already done more than ten movies by the time SHAFT and SUPER FLY hit. He'd done westerns, he'd been one of the DIRTY DOZEN, he'd even played a version of Richard Stark's Parker character in THE SPLIT. But I've always associated him with the blaxploitation era – I mean, he ended up in I'M GONNA GIT YOU SUCKA and ORIGINAL GANGSTAS, didn't he? – and that all started in 1972 with the movie SLAUGHTER, in which Jim Brown is SLAUGHTER.
In the opening scene a dressed-up older couple get into their Mercedes and it explodes. They were Slaughter's parents. Dad "had underworld connections." Slaughter was "a Green Beret hero." He gets the name of a responsible party: Renaldi. Tries to confront him at an airport, ends up in a car vs. small plane chase, apparently screws up an investigation by the U.S. Treasury.
So Chief Inspector A.W. Price (Cameron Mitchell, ACTION U.S.A.) takes him into a room, calls him the n-word, makes him sign a confession, gets put into a headlock, and puts him on a secret mission to Mexico with two partners to take down the man responsible for blowing up his daddy.
One thing that's funny about this mission: both of his partners surprise him, and both almost get killed by him. Kim (Marlene Clark, BEWARE! THE BLOB, GANJA & HESS), at first posing as a reporter for "Black Is Magazine," hides in his bathroom and gets the whole room shot up. Harry (Don Gordon, BULLITT, THE EXORCIST III), waits in his hotel room and as soon as he says "Hi!" gets punched through some furniture, against a wall, out a window into a swimming pool and then gets punched a couple more times while in the swimming pool. (read the rest of this shit…)