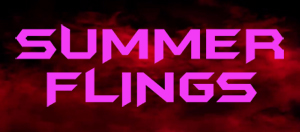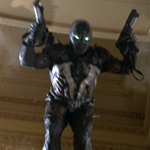 WARNING: Somehow I forgot that I already wrote about SPAWN eight years ago, but now you're in for a more detailed look.
August 1, 1997
It's weird that one of my least favorite movies in this series so far is the one that stars Michael Jai White! Thank you Ralph Bakshi for making sure it's not in last place.
White plays Al Simmons, an amoral elite counter-terrorism black ops super badass who gets betrayed by his boss Jason Wynn (Martin Sheen, FIRESTARTER, who took the job because his grandson told him Spawn was cool). He's set on fire, blown up and recruited by a crude CGI giant monster devil (voice of Frank Welker) to be a soldier for Hell. Returned to earth five years later as a burnt up demon called Spawn, he lives among the homeless and learns how to use his new demon powers while pining for his wife Wanda (Theresa Randle, CB4) and plotting revenge on Wynn.
I made that sound like a story, if I do say so myself. The movie's not as interested in that. Faithfully adapted from the top-selling comic book of some parts of the '90s, here is a visually dark, Marilyn-Manson-on-the-soundtrack slog that makes THE CROW: CITY OF ANGELS look like a masterwork of storytelling craft. And at least CITY OF ANGELS was nice to look at. Despite the participation of the great cinematographer Guillermo Navarro (DESPERADO, JACKIE BROWN, PAN'S LABYRINTH), this thing looks like shit! Rarely has there been a worse case of CGI overreach – shockingly sub-par, MORTAL KOMBAT-level monsters, fire and transformations are slapped all over it like a big-screen CD-ROM game, and even the straight-ahead action movie scene at "Military Air Base, Hong Kong" looks like a '90s syndicated TV show where cops raid warehouses and dockyards every episode. (read the rest of this shit…)