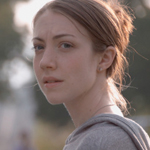 (I'm not gonna count this as a Slasher Search since it's a new movie I had been anticipating, but it's the completion of a trilogy that I reviewed the first two-thirds of in Slasher Search 2012)
Years ago there was this weird pill junkie guy I knew who obsessive-compulsively watched stacks of crappy murder mystery movies that nobody even around here ever heard of, and he kept telling me there was this amazing horror movie called MALEVOLENCE (2003). I had to know what it was this guy was so obsessed with, but as expected it was kind of cheap and ugly. "But it has its moments. I like what it's going for I guess" raves Outlawvern.com.
When I was looking it up on IMDb to write a review I noticed that writer-director Stevan Mena made another movie in 2010 called BEREAVEMENT that had some of the same character names. Turned out it was a prequel.
And to my surprise I really liked it! It's got little in the way of originality, and it's more nihilistic than I generally prefer, but with a bigger budget and more experienced cast he was able to make a creepy, atmospheric, character-driven riff on TEXAS CHAIN SAW MASSACRE type material. (And then his great heroine Alexandra Daddario got to star in the officially licensed but not as good TEXAS CHAINSAW 3D. "Do your thing, cous'!") (read the rest of this shit…)