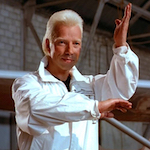 "Well, if it isn't the Alexander boys."
Sometimes there are movies I know I should watch, but I save them for when they're needed. And after almost a year of this pandemic I decided it was time to break the emergency glass on NO RETREAT, NO SURRENDER 3: BLOOD BROTHERS (1990).
Like part 2 it's written by Keith W. Strandberg (SUPERFIGHTS, BLOODMOON) and is not a direct sequel to its predecessor. It was originally intended as an unrelated movie, and I don't even know if it counts as a thematic or spiritual sequel – at best it's an attitudinal sequel. The tagline helpfully explains the trilogy: The first was for honour, the second for his country, this time it's family. So this trilogy pretty much covers the full spectrum of what to do something for.
This is the only one not directed by Corey Yuen. His replacement, first timer Lucas Lowe (who followed this with THE KING OF THE KICKBOXERS and AMERICAN SHAOLIN, also written by Strandberg) was a non-martial arts guy chosen by executive producer Ng See-Yuen (a Shaw Brothers executive who's in the Criterion Collection because he directed GAME OF DEATH II) on the theory that he would focus more on the story. But in interviews Strandberg laments that Lowe would spend too long setting up and shooting extras, run out of time and then cut a bunch of his dialogue. That may or may not explain why I didn't understand this joke where the main characters' dad leaves has a guy gagged and tied to a tree outside of his house. (read the rest of this shit…)