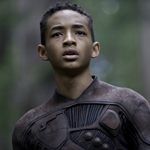 or JUST THE TWO OF US: THE MOVIE
When I kept seeing the trailer last summer, AFTER EARTH didn't look so hot to me. It's hard to have hopes for an M. Night Shyamalan joint these days, and also it got absolutely terrible reviews. I mean, it has an 11% from critics on Rotten Tomatoes – that's lower than ALEX CROSS, R.I.P.D., THE SMURFS 2 or the joyfully pre-hated Paul Schrader/Lindsay Lohan collaboration THE CANYONS. But you know me, I watched it anyway and I'm not unhappy to tell you that it's not bad.
Jaden "KARATE" KID Smith stars as Kitai, a talented young cadet in some futuristic military outfit, trying to make ranger, but he fails because he's Too Reckless In the Field. There's alot of pressure on him because his dad (played by real life dad Will Smith) is the Big Willy of the future, the warrior who saved the human race from giant alien bugs called ursas. This happened after humans polluted earth so bad they had to colonize a place called Nova Prime, then some other aliens invaded using the ursas as attack dogs. Ursas are blind but they can smell pheremones, and dad can chop them up completely unsmelled because he has no fear. This technique, Kitai explains in narration, is called "ghosting." The only thing we have to not ghost is not ghosting itself.
So his dad is awesome, but I'm not gonna say what his name is because then you'll never believe me that this is a decent movie. Okay, his name is Cypher Raige. But seriously guys. (read the rest of this shit…)