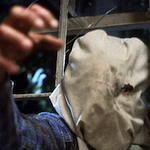 "I don't want to scare anyone, but I'm gonna give it to you straight about Jason."

Sean Cunningham kinda messed up. He hadn't been trying to become a horror guy, he was just trying to cash in on the popularity of HALLOWEEN real quick. But FRIDAY THE 13TH had been so successful for Paramount that they wanted a sequel immediately. By distributing the film, they'd invented the "negative pickup" – basically, they would let indie producers go through the trouble of making the damn thing, and the studio just had to market it, so they made lots of money. Though not everything had sequels in those days, this seemed like a good chance for one. But Cunningham wasn't about to dedicate his life to this shit.
So they promoted from within. Steve Miner (previously credited as Stephen Miner) had worked as a p.a., assistant editor, second unit director and other roles on Cunningham productions including THE LAST HOUSE ON THE LEFT, HERE COME THE TIGERS and MANNY'S ORPHANS, and he'd been associate producer of FRIDAY THE 13TH. Part I screenwriter Victor Miller didn't return, so Ron Kurz, who'd done some uncredited rewrites on that one, took over. He'd also pseudonymously written two Ken Wiederhorn movies: the notorious fart comedy KING FRAT (1979) and the in-my-opinion-underrated slasher/suspense movie EYES OF A STRANGER (1981). Fortunately his work here is more like the latter.
Frank Mancuso Jr., the 23-year-old son of the president of Paramount, became the associate producer for Part II, by most accounts staying quiet but very handy. They found there were problems the kid could solve with a phone call.
I called FRIDAY THE 13TH "in many ways the Platonic ideal of a slasher movie," but I think Plato would agree with me that FRIDAY THE 13TH PART II is actually better. It's mostly the same formula, but the simple act of telling us it's Jason allows for more significant onscreen struggles with the killer, whose identity doesn't need to be hidden. I also think the very fact of being a sequel adds a little more fun, wrapping up the events of part 1 and coming up with a crazy way to continue the story despite the decapitation of the original antagonist. I kinda dig how in the first one everyone in the area was haunted by these past events going back to '57, and now the events of part I have been added to the list. Also, we hear a new (true!) legend about Jason being alive that apparently the "old timers" believe, even though they didn't think to mention it last time. Or maybe it just started to proliferate in the 5 years between these two movies that were released less than a year apart. (read the rest of this shit…)