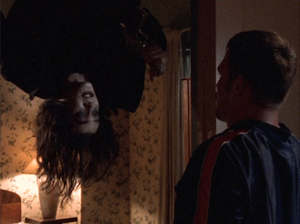 Happy Halloween everybody! (Or I suppose Devil's Night Eve, as of this posting.) I hope you have enjoyed my super-sized 5-day-a-week horror reviewing this month. But if you need even more review content to put into your container or whatever and you happen to be a Patreon contributor (or want to start) I took a look at two episodes of the short-lived 1998 syndicated action series based on THE CROW and starring Mark Dacascos. And if you missed it I still have last year's Halloween special, a Knight Rider episode featuring an Anthony Perkins impersonator and the Silver Shamrock pumpkin mask, plus the year before's Walker: Texas Ranger about a satanic cult.
Enjoy!
This entry was posted on Friday, October 29th, 2021 at 11:13 am and is filed under
Blog Post (short for weblog)
. You can follow any responses to this entry through the
RSS 2.0
feed. You can skip to the end and leave a response. Pinging is currently not allowed.