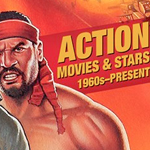 6/22 UPDATE: I am hearing that unfortunately Craig Baxley and Cynthia Rothrock will not be able to attend. However Don "The Dragon" Wilson will.
If you haven't heard yet, I (Vern) am emerging from my spiderhole again for my second ever public appearance, a book signing at Dark Delicacies in Burbank at 2 pm on Sunday, June 26th. This time it's not all about me (or Seagal) though, I'm there to support my friend david j. moore and his gigantic new action movie compendium THE GOOD THE TOUGH & THE DEADLY: Action Movies & Stars 1960s – Present, which I made a very small and humble contribution to.
But that's not all! I am told there will be a whole bunch of icons from the type of b-action movies we love in attendance as well. Like david's post-apocalyptic movie book WORLD GONE WILD, this one has over 1,000 capsule reviews (five by me, I believe, which is how I got into this mess) and david's interviews with a who's who of action stars, directors, writers, stuntmen, etc. Some of them will be there with us to sign the book. INCLUDING MR. CRAIG R. BAXLEY, DIRECTOR OF SOME OF MY VERY FAVORITE MOVIES.
Here's the full list via david:
This is a complete list of the guests attending the book signing at Dark Delicacies on Sunday, June 26th at 2PM:

Sheldon Lettich (writer of Bloodsport, director of Lionheart)
Craig R. Baxley (director of STONE COLD and Action Jackson)
James Bruner (writer of The Delta Force and Invasion USA)
Michael Worth (star of Fists of Iron and Final Impact)
Robert Chapin (star of Ring of Steel and Dragon Fury)
Jino Kang (star of Fist 2 Fist and Weapon of Choice)
Eric Jacobus (star of Death Grip and Rope-a-Dope)
Julian Lee (star of My Samurai and Dragon and the Hawk)
Paul Logan (star of Ballistica and The Horde)
Tentative guests include:
Scott Adkins (Ninja, Undisputed 2-4)
Marko Zaror (Kiltro, Mirage Man)
James Lew (Red Sun Rising, Lethal Weapon 4)
Ernie Barbarash (director of Six Bullets, Pound of Flesh)
Don "The Dragon" Wilson (Bloodfist 1-8)
Cynthia Rothrock (China O'Brien, Lady Dragon)
Ben Ramsey (director of Blood and Bone)

Also on the signing list are contributors:
david j. moore
Vern
Corey Danna
Mike Joffe
Jason Souza
Dustin Leimgruber
Duvien Ho

Keith Batcheller (cover artist)
Obviously you can see why this will be worth your time. So if you're in the area please come by, and after you're done with all those other people I hope you'll say hello. I'd love to meet you.
programming note/shameful confession: this morning I'm traveling to Knoxville, Tennessee for a wedding. I had hoped to have more reviews ready to post this week, but they're important ones that will need a little more work when I get back. My apologies for that. But I was nervous about the later trip to Burbank and I sold out and finally got a damn cellular phone. I feel like an unfrozen caveman sitting here getting lessons on how to use it. I'm glad Ali didn't live to see it. But the point is I will try to at least check in on Twitter during the trip. So even if you don't believe in Twitter, feel free to scroll down to its window on the sidebar if you care to see what I'm up to. Also I'll see what I can do to post a little something about last night's John Carpenter show.
Peace everybody. More good shit next week I hope. Be good. (quote from E.T.)
This entry was posted on Wednesday, June 15th, 2016 at 6:09 am and is filed under
Blog Post (short for weblog)
. You can follow any responses to this entry through the
RSS 2.0
feed. You can skip to the end and leave a response. Pinging is currently not allowed.