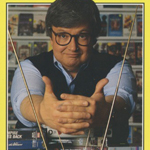 Well, I know I'm late to this wake, and many people have written more thorough and more personal words about Mr. Ebert than I could. The closest I ever came to meeting him was when a commenter here chose the name "Simulacrum of Roger Ebert" and I wanted so badly to believe it might be him that I decided maybe it was and made a fool of myself. (Don't worry bud, all is forgiven.) But I want to say something because I really believe I might not be doing what I'm doing with my life if not for Siskel & Ebert. Which might be a positive for my financial future but otherwise would suck.
Ebert had the type of broad attitude towards movies that I try to encourage. Like expected from a film critic before the internet he was big on film history (did a great commentary track on CITIZEN KANE), loved the foreign films and all that. But he was also very open to the lowbrow. He assumed he was speaking to smart people and yet didn't act like a snob. You would see Gene and Roger get excited about action movies (see below), kid's movies, whatever. If they loved it they would stand up for it and not be ashamed and that's when they were at their best. (although it was hilarious when they fought.)
If they thought it wasn't getting enough attention they would spend extra time on it. They were talking about documentaries on TV, that was new. They famously championed HOOP DREAMS, and so many independent films. I love that Roger was so big on black films. So of course he loved Spike Lee. Back then those guys were bringing attention to movies and movements that would've been mostly ignored otherwise. They had power and they used it wisely.
I thought it was great that Ebert fell so hard for DARK CITY. He ended up doing lectures about it and two DVD commentary tracks. Even cooler, he was a huge advocate of the crazy Alex Proyas/Nic Cage collaboration KNOWING. 33% on Rotten Tomatoes, 4 stars from Ebert. Winner: Ebert.
When we talk about critics we tend to say, "I didn't always agree with him, but…", but of course, we don't always agree with anybody. Not even ourselves – sometimes somebody points to one of my old reviews and I read it and think "That's what I said back then? I remembered liking it." I know, especially with my tastes, plenty of critics aren't gonna like the same shit I like. So some of the fun of reading them is to get excited on the occasions when they do. I've often referred to Ebert's positive review of THE DEVIL'S REJECTS, for example. He could get vicious with the real dark horror movies, like in his famous panning of I SPIT ON YOUR GRAVE, so it was a great surprise when he appreciated something like REJECTS (or going back earlier LAST HOUSE ON THE LEFT) and could articulate what he respected about it.
Oh shit, i forgot this but the first time I rented EVIL DEAD 2 it was 100% because of the Roger Ebert quote on the box. I didn't get the first EVIL DEAD back then, thought it was crap, and Ebert loved the sequel to that? I had to rent it to find out why. And I found out why. Good call on that one, Ebert. You youths who saw it first when ARMY OF DARKNESS already existed, you missed out on one of the all time knock your socks off "holy shit, I need to rewind that" endings. But "Siskel & Ebert At the Movies" or whatever was quoted on the VHS cover made sure I got to experience it the right way.
The reason I think Ebert is influential to me is not as much his great writing or his making me watch EVIL DEAD 2 but the fact that I watched that damn show every week I could throughout the '80s. Like so many people it molded my brain to know the movies that are coming out each week and want to see them and talk about them with people about what I thought about them and why. Not just eat them and shit them out and forget it and go back to work.
I know Ebert complained that he didn't like the thumbs up idea and how it simplified things. Sure, and a half hour show with commercials and a bunch of movies doesn't allow much time for thorough discussion. But you watch those episodes and they still manage to get out a few insights for each movie and encourage a thoughtfulness that I prefer to what you usually get in the mainstream today.
Sometimes I start looking into that siskelandebert.org archive and get stuck in a rabbit hole looking shit up. "Hmmm, what did they say about REVENGE OF THE NERDS?" (they loved it). 'What about HARD TO KILL?" (they were disappointed). For God's sake don't look up their review of DIE HARD! Too soon. But they did love ABOVE THE LAW. A couple years ago somebody told me since Ebert liked some of the early Seagal I should send my book to him, maybe he'd read it. I got the address and had the book ready and like a dumb motherfucker I never sent it. Should've given it a shot. I see that now.
One last thing I want to say about Mr. Ebert. I remember that a common anti-critic sentiment on the internet used to be "what does he know he wrote beyond the valley of the dolls. ha ha and fat." But I always thought it was fucking awesome that he wrote it. Haven't seen it in years but I thought it was a clever, unique movie and even if it hadn't been it was cool that he lived a life where he ended up writing a Russ Meyer movie as a young man.
It's sad to see a guy go when he obviously wanted to live so bad, be with his wife more, see more movies, run his film festival, write more books. That illness fucked him up bad and he was like, you're just taking my jaw? Making it so I can't talk? That all you got, pussy? Barely let it slow him down. (In fact in some ways it sped him up – I regret to say that I couldn't follow him on twitter. It was too damn much!) But he lived a great life and left a great body of work and influence and while I'm sad we lost him it makes me happy thinking about the smart and funny things he said over the years and the way he shared his passion for the good shit.
So after we pour one on the curb for him let's honor Roger Ebert just by continuing to watch movies and write about them and talk about them with each other, look for the good ones and share them. In the below episode he and Gene recommend one that sounds pretty good, something about a cook on a boat?
This entry was posted on Friday, April 5th, 2013 at 1:43 am and is filed under
Blog Post (short for weblog)
. You can follow any responses to this entry through the
RSS 2.0
feed. You can skip to the end and leave a response. Pinging is currently not allowed.