BANKGKOK KNOCKOUT is the name of the latest cinematic knee to the skull from those crazy fuckin Thai stunt people – the guys with the amazingly acrobatic, bone-crunching martial arts, the unbelievable falls and vehicle hits, the guys who get knocked off of trucks or hit by motorcycles for real, and make all the stunt people in every other country look like total sissies. Here in the U.S., Magnet Films will release it on DVD August 30th under the title "BKO: BANGKOK KNOCKOUT," which stands for "BANGKOK KNOCKOUT: BANGKOK KNOCKOUT." It's directed by Panna Rittikrai, who's had a hand in pretty much all of the modern Thai action classics. He was director of BORN TO FIGHT and ONG BAK 2-3 (taking over after Tony Jaa left), and choregrapher for ONG BAK, TOM-YUM-GOONG/THE PROTECTOR and CHOCOLATE. He was Jaa's mentor and founder of the Muay Thai Stunt team. He's pretty much the godfather of this shit.
If you're like me, that's all you really need to know. I didn't bother to find out what it was about before I saw it, but you're already here and we got some time so I might as well tell you. A team of attractive young stunt people (called "Fight Club" in the subtitles, "Fighting Club" in the credits) are in the finals of some kind of reality show competition for stunt people. They're competing against another team called Stunt For Life and the winner will get to "go to Hollywood." It must be the dream of every Thai stunt person to go to Hollywood so they don't have to get knocked off those trucks anymore.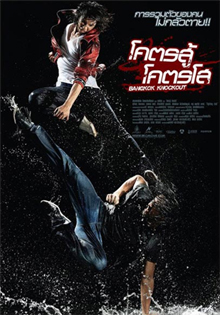 They do (spoiler) win the competition, but there's a catch. At a celebratory dinner they're drugged, and they wake up the next day in an abandoned building. They're looking around, trying to figure out what's going on when a DEATH RACE type reinforced car drives in and starts running them over (but they're stunt people, so they can roll over it safely). Soon they learn that that whole Hollywood thing was bullshit, actually some of their friends are kidnapped and they have to fight thugs to rescue them while rich people watch on closed circuit cameras and bet on their fates. So it's like THE HANGOVER meets THE RUNNING MAN, I guess.
If you win American Idol you get a hit record, one lady got an Oscar. This show you win, you get put in a human cockfight. The whole thing is run by a decadent American, Mr. Sneed, played by some guy named Speedy Arnold. He only speaks English and he refuses to stop smoking his cigar in a hospital because "that would be a Thai law. I'm not Thai." He hosts a couple of evil rich people from different countries in a lounge set up inside a trailer, with beautiful servants serving them drinks and sitting on their laps.
The bad guy fighters have handkerchiefs on their faces or wear masks, except for a fighting transvestite with his nipples showing through his lingerie. Of course he
has to be unmasked – his wig and cup removed, his balls bashed and headbutted. Also in the middle of everything is a cartoonish gay stereotype wedding musician who's supposed to be the comedy relief, I'm sure, but could really, really stand to be entirely removed from the movie. Jesus.
At one point a pair of hands tears through a wall behind a good guy, grabs him and pulls him off screen, then tosses him back in. It's a trademark Jason Voorhees move, so I was really happy when the perpetrator turned out to be a big, lumbering Jason type, complete with a mask (like Jason Statham's Frankenstein mask in DEATH RACE) and an ax. For a while it becomes a slasher movie with acrobatic martial artists as the prey. The Jason guy even catches fire and continues to walk around slowly, bust through walls, etc. But when he swings his ax at them they know how to fight back.
There's a ridiculous amount and variety of action. They run around, nimbly leaping on top of, over and through things, rolling, flipping, tripping, bouncing off walls, dangling from heights by one arm, dropping through trap doors and solid floors. The good guys and bad guys leap across opposite ledges and crash mid-air. They fight with fists, spinning and flying kicks, headbutts, various metal poles and knives.
There's a great fight inside a chain link cage, with the fighters constantly climbing like Spider-man, hanging upside down, flipping and bouncing off the sides. But the most memorable fight is the huge warehouse rumble that might be inspired by the one in HARD BOILED. There are people doing complex, choreographed fights in the foreground while in the background you can see all kinds of other stunts going on. Must've been a pain in the ass to shoot. The reinforced car shows up and starts doing donuts, just nailing everybody, like 6 or 7 people rolling over it at a time. Eventually the car gets pinned down and they fight on top of it. It turns very pliable all the sudden and they crush each others' heads through the windows, the doors, the hood, they leap on top of each other and crush each others' bodies into the cavity of the crunched vehicle, like they have super strength.
Leading the team of mercenary killers is an older guy I recognized from Tony Jaa movies or something. I thought it was the director at first, but probly not. Anyway he represents the old generation, he claims he could handle all the kids by himself, but his boss is skeptical because he's old and has asthma. Eventually the old guy does have to take the whole Fighting Club on by himself, and does an impressive job. He stands on top of some of their unconscious bodies as he fights the others (at that age your feet can get sore if you don't have some sort of padding to stand on), he impales their arms with metal spikes, punches them in their throats. Only after they've all been beaten to a pulp, and they're collectively crawling around pulling on his legs, and wrestling his asthma inhaler away from him, can they finally just barely scrape together a victory.
There's alot of goofy shit in here. The sort-of main dude is kind of sadsack who wears baggy sweaters and has bangs down over his eyes, but happens to know how to do 720 degree spinning kicks and shit. Also they got a mom who comes to their practices and brings them all sandwiches, and they all call her "Mom." I will not give away whether or not she gets kidnapped and they have to rescue her. But of course it's all treated very seriously, except for the wacky gay guy, and the Farrelly brothers style credits where the injured survivors get up out of their hospital beds and dance around.
Alot of people say that the plots in ONG BAK, TOM-YUM-GOONG and CHOCOLATE are shitty and they like the movies despite them, but I think BKO, as fun as it is, makes you appreciate the stories in those other ones. There's a simplicity to them that really works. They each have one lead character with a big problem, they are on a journey to achieve a specific goal, and as they travel through different areas the action varies and escalates. This one I guess has the one big problem and is even more simplified since it takes place mostly in the one location. But it has something like 10 main characters to keep track of, all in one building but in different parts of it. You don't really feel like you know or care about them much and you have to remember what's going on in the different parts of the building. Also it keeps cutting to brief flashbacks, mostly from the dinner party before they passed out, and that's not necessary.
Meanwhile you have all kinds of stunts and fighting techniques but since it's almost entirely in the one building it manages to feel more repetitive than it ought to. The other movies have more of a progression to them.
My favorite Thai action movie is actually the 2004 version of BORN TO FIGHT, which is also a big ensemble. But since they were all athletes representing different sports they each had a specialty (such as gymnastics or kicking soccer balls) that set them apart from each other. Also it was mostly outdoors so there was more variety in the action as they were traveling around and things were exploding and shit.
This also doesn't look as good as those other movies. I believe it's shot on some kind of digital video that kind of looks like a shitty TV show sometimes, and there are annoying white flashes throughout the movie for reasons I could not discern. Some of this might be the particularly bad DVD screener they sent out, which had multiple watermarks, plus the usual switching to black and white periodically and for some reason a 4:3 transfer. So maybe it's not fully color corrected and will look better in the real release (maybe the people who saw it at Actionfest can verify that for us).
But those are reasons why BKO is not the best of these types of movies. They're not enough to hold it back.  It's still an incredible collection of things you've never seen before, and in the final stretch, when the Club get free and come after the bosses, the action does finally change locations in an exciting way. We're denied the satisfaction of a complete comeuppance (partly because they never get to go after the gamblers) but they do get to enter the trailer lounge and fuck some shit up just as it's being pulled away on a truck. While one character climbs on the top of the trailer another has a fist and gun fight inside and two others have a martial arts duel while hanging beneath the undercarriage. You gotta respect a movie that does that. For now on, and starting with this one, any movie that has that will get my respect.
This entry was posted on Tuesday, August 9th, 2011 at 12:50 am and is filed under
Action
,
Martial Arts
,
Reviews
. You can follow any responses to this entry through the
RSS 2.0
feed. You can skip to the end and leave a response. Pinging is currently not allowed.