Okay friends of the nerd community, things are really going your way this week. Don't ever say I didn't do nothing for your chosen mediums of expression. This is a followup to the earlier post about BLACK DYNAMITE in cartoon and comics forms. This time Scott Sanders sent me a couple pictures from the cartoon so you can see what it's gonna look like.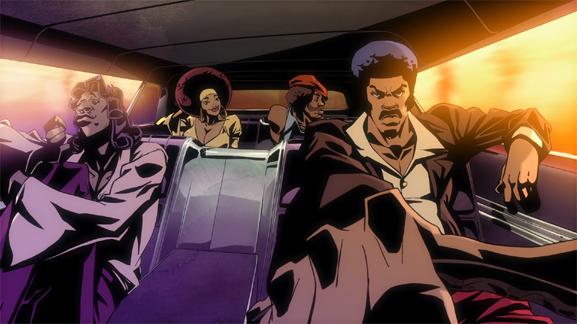 (sorry they're not giant. Do I look like I'm made of bandwidth?) As you can see, we got some returning characters from the movie. Turns out Michael Jai White, Tommy Davidson, Kym Whitley, Byron Minns, Clifton Powell and JB Smoove do voices.
This one makes me think Black Dynamite might have some more freak-outs in him like when he turned pimp in that one scene. Unless maybe somebody just interrupted his kong fu. This look reminds me alot of THE BOONDOCKS, a show I still enjoy and have noticed the drawings getting better each season. I assumed it was gonna look the same as the cartoony end credits of the actual movie, but this is much better, more realistic so it will make more sense if they imitate a live action blaxploitation style filmatism.
This entry was posted on Thursday, September 30th, 2010 at 12:01 am and is filed under
Blog Post (short for weblog)
. You can follow any responses to this entry through the
RSS 2.0
feed. You can skip to the end and leave a response. Pinging is currently not allowed.