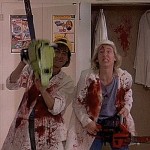 Hey folks, Harry here… Well let's see… Mr Beaks and I both liked THE TEXAS CHAINSAW MASSACRE, but Quint and now Vern didn't like it… with Vern more or less striking with out and out hatred and venom. This is exactly what will happen to you if you carry the original in the theater with you. So, if you're expecting the experience of the first film… I suggest renting the first film. If you want to see a "STUDIO VERSION" of this story, then check this film out, but I only suggest going if you're open to that.
Meanwhile… here ya go, for all you monkeys that have been saying that TEXAS CHAINSAW MASSACRE was 100% based on Ed Gein… take a look at this LINK!!! See, we've got crazy psycho killers from Travis County!!!
Harold & the boys,
I bet Harry and some of the others out there agree with me that Mr. Tobe Hooper's THE TEXAS CHAIN SAW MASSACRE is not only a great horror picture, but one of the all time greats of American independent Cinema. A real hall of famer. Well if so you'll remember that crazy old drunk in the cemetery at the beginning. "You laugh at an old man." The kids are asking around about which bodies got dug up and the old man tries to warn them away from this godforsaken shit hole out there in Harryland.
Well today I am that old man leaning up against the tombstone, warning you against the worst type of dumb movie: the kind of dumb movie that is a remake of perfect movie. (read the rest of this shit…)