big spoiler in this old review
Well there might be some individuals out there wondering, wouldn't it be cool if you took a director like the dude who did Romper Stomper, and had him do a slasher movie. Well those individuals it turns out are wrong. Sorry boys.
Cherry Falls is the story of a killer in a small town who kills only virgins. In a small town called Cherry Falls.
You know what I mean? Virgins. In Cherry Falls.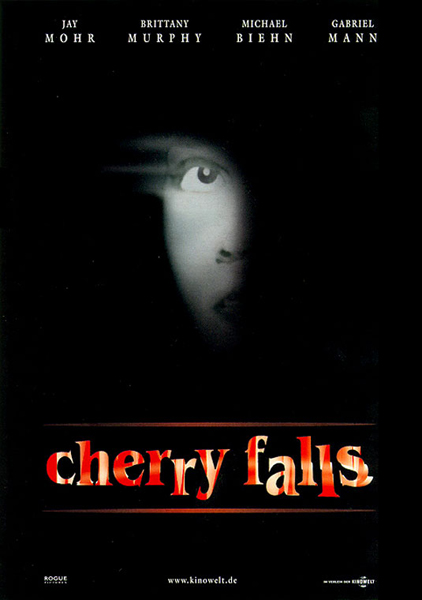 I'll let that one sink in. Anyway this one is a bit different from the current crop of teen slasher type pictures. It is made by australians, for one. The tone is a little darker and less jokey. Most of the actors look like they are really high school aged instead of in their mid to late twenties. And instead of not killing virgins, the killer kills ONLY virgins. So of course the gimmick is that the kids decide to have a big orgy so they can all a) not get killed b) get laid.
Unfortunately not much of interest is made of this premise. And it's not THAT different from your urban legend the final cut or your scream 3 or your I know what they did for the summer, etc. Just like those pictures it is all leading up to some stupid surprise ending where it turns out one of the characters you thought you could trust is actually the killer. what I'm getting at is that Jay Mohr is not just a teacher, he is also a guy who dresses up as his mom to kill virgins.
There aren't any real knock you in the balls scares or chases or gorey type material. Even the sexuality of the picture is very unthreatening. This is the only orgy I've ever seen where everybody stays in their underwear.
I will say two things for this picture. First of all, I liked the young gal Britney Murphy who starred in it. She has the old non traditional type of beauty. She seems a little crazy, she makes her boyfriend bite her toes, etc. I like that in a young gal.
Number two, there is one scene where the killer shows up at the orgy, and all the kids run away scared, and so many of them are piling down the stairs that they get stuck.
If there was even one other thing in the movie as great as that, I would have no choice but to recommend this picture. but no dice folks. Sorry. I know you never heard of it, well don't hear of it. not worth it friends. they don't send 'em straight to video for nothing it turns out.
thanks