Well shit guys I don't know what to tell you, I have trouble keeping up with the column anymore. That is why I am a day late. I am old and out of touch but to be frankly honest I think I can still take on most of the younger movie critics, not only physically but even writing wise. I challenge for example any of the motherfuckers from entertainment weekly, people magazine, etc. Except Mike D'Angelo, he is pretty good in my opinion, not sure about the fighting skills but I will keep you posted.
Shit listen to me talking about I'm a day late. I sound like your girlfriend.
If you get what I'm saying. It's a joke bud.
Anyway here's the good news. My bud David Peter over there in the united kingdom, he sent me the clipping from that magazine jockey slut. Not bad if you want my opinion: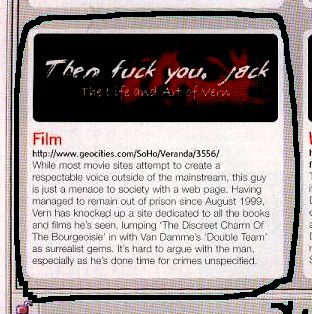 Anyway, that is the real reason I am so exhausted, I have been spreading myself to other mediums. This is the first time I have been in the print type of medium, so it is an exciting time for me to think about all the trees they cut down just so some dancing british guy can read about me while he's on the john.
Anyway if any of the americans want to follow the lead of the british, you can do an article about my sight too. I am talking to you entertainment weekly, hustler, national geographic, etc.
But enough about me. I want to talk about me watching a movie. In this case it is a movie that hit very close to home for me. Although it is about individuals from a different type of background from me, it happens to be about a dude who uses poetry to overcome the Negativity of prison. The name of the picture is SLAM and it is maybe a classic.
This is a movie that comes out of the rapping music type of scene, the reading poetry type of scene that the young black guys have. The main character is Raymond Joshua played by Saul Williams, who is a poet. Not only the kind who writes, this is the verbal type of poet where the way he says it is so important. But he's not even pretentious about it, he even says he doesn't really think of himself as a poet, he's just someone who writes. And he walks around with all the kids in the neighborhood and they make up rhymes. Then he gets caught selling weed and goes to the can.
This is the most authentic picture I have seen about the topic. It is shot in a documentary style with real inmates in almost all of the roles, in a real prison with mostly improvised dialoguing. The poets in the movie are VERY fucking talented and passionate and there is alot of talk about the hypocrisy of the drug war, the impossibility of escaping a rap, the lack of individuality in a prison type setting and many other topics which have never been treated honestly in a cinematic motion picture before.
There is also a character called Hopha, a very realistic character of the prison bigshot who wears a white hotel bathrobe and has a huge collection of soap and Kool Aid. He tells Raymond the reality of prison life, how things work, what you have to do. And in a way he's right. But Raymond is so talented, so right, that he is able to do things his way anyway, and make a little change in the can, and in a way that's completely believable.
The dude in this role of Hopha is one of the best and most likable actors I've seen in a long time. Well then I listened to the commentary track and it turns out this dude is one of the writers of the movie, and he really was in the joint and improvised most of what he said. In fact he is another individual like myself who came out of the joint and used Writing to turn his life around.
But that isn't even why I liked it, the prison stuff. I mean hell this could take place in a garden show I would still like it if it was this powerful. What I like is that these people are obviously the real thing. They really believe the shit they are saying and doing. There is a character in the movie who is a gangster who gets shot in the head and is thought to be dead, and shows up alive and blinded. He is played by a guy who in real life was a gangster who got shot in the head and was thought to be dead, and showed up alive and blinded. There is a scene of a writing class for inmates, and all of them are real inmates reading their own poetry about their own lives. There is a scene where Saul Williams explodes into this poem about violence in the middle of the yard, and everybody looks at him like, what the hell? They filmed this by having him really do the poem in the middle of the yard. I mean that is asking for it. But it worked.
Now, I think many of you come from the same type of background as me, of the old white guy. So I never really liked the rapping music that they have these days. I remember when I first went in, rapping was a fad everybody said. It's just a fad, it's not even music. Ten years later, it just won't go away. I mean how long do these fads last these days, its ridiculous, its been around what, twenty years. Well to me, this movie explains why. I never thought it was music before because it is just talking. But when I saw it in this movie I realized that HOLY SHIT is that some TALKING!
I mean there is this scene where Saul hears some dude doing the rapping in the cell next door. He is banging a brush on a table and talking these rhymes about his violent life in the cocaine trade. And Saul jumps in and starts doing the rhyming about his heritage and his belief and what not. ANd they just keep going, and they are just talking off the top of their head and they have some great images and wordplays and most importantly ALL OF IT RHYMES.
I mean I can't emphasize that enough, there are white guys who sit around all day writing a poem and at the end of the day, I don't care how good your motifs and thematics is it still doesn't rhyme one fucking bit. I mean for example, "icy cold heart" and "shadow of my desperation" or something like that – those don't rhyme. That is not a rhyme. That is for pussies.
But these rappers, they are guys who everything they say rhymes. I mean that's what rapping is. Right in this scene is two individuals, one of them an 18 year old behind bars in real life, and in one scene they are taking just about every important talent to the extreme. It is a powerful blast of poetry, rhythm, prison culture, african american culture, improvisation, and verbal dexterity. I mean how the FUCK do they even come up with this stuff let alone make it sound good. "And I miss my mother / fuckin sanity." There are some good lines.
That is a real music and a real talent. We don't got no time for the poems that don't rhyme, you can stick it up your ass with a shard of glass. When you watch this scene you can see the real power of it. I mean good job you guys holy shit. I'm convinced.
I saw another movie that I forgot to review before when I put up all those other reviews. I thought I was putting up a whole assload of reviews the other day but it was a mistake, I forgot Running Time, so there was only about 75-80% of an assload of material there. Sorry about that guys. Anyway this picture kind of picks up where Slam leaves off. In this one the guy gets out of prison, but instead of being a poet he is Bruce Campbell. Which is almost the same thing in a way.
Now the gimmick here is that it's all supposed to look like one photographing shot, which is coincidentally exactly what Mr. Al Hitchcock did in his picture Rope. Only here it is more fakey and in black and white. It stars Bruce Campbell.
The name of the picture is Running Time.
Now in the movie, Bruce is playing a character who is much more Negative than myself, but you gotta admire his conviction. Because what he does is walk out of prison, off on parole, and drives straight to his next robbery. If he stopped to get a burger, change his clothes or whatever, that would be one thing. But no, he goes straight to the robbery. I mean that's pretty cool in my opinion. Even if the guy can't rob worth a damn.
His ride to the robbery is an old high school buddy, and these two are the core of the movie because they are good actors with good chemistry. Don't get me wrong, Bruce's buddy is a total asswipe but he's good at playing an asswipe. And then everything goes wrong and Bruce falls in love with a hooker who he also knew in high school.
Actually high school is the theme of the movie and also kind of the problem. When Bruce keeps talking about high school relationships, looking through the yearbook, and when we see that the hooker still has his letterman jacket hanging in her apartment, I mean these people start to seem a little too pathetic. Get over it. I mean how old is this dude, and he's still hung up on what happened when he was 17. Maybe it should've been junior college or something.
But still I think this is one of Bruce's better movies outside of the Evil Dead and Army of Darkness pictures. The running time gimmick is fun and it has a nice old fashioned feel with black and white photographing and Bruce wearing the timeless Night of the Living Dead just got home from work type outfit, the white shirt and black tie. Unlike Rope this takes place in many locations, mostly outdoors, and the camera follows them all over the place. I think that is part of why it works better than most of these straight to video type pictures, because the concept forces a raw documentary type feel that's just much better than what happens when they try to be all slick, like say on Maniac Cop. One complaint, when are these straight to video dudes gonna learn to use a real drum set and not a keyboard if they have to have so many drum beats on their music. I mean jesus. Listen to that dude in Slam and what he comes up with just using a hairbrush. Get with the program bud, no offense.
thanks guys
Vern
This entry was posted on Monday, May 8th, 2000 at 8:12 am and is filed under
Vern Tells It Like It Is
. You can follow any responses to this entry through the
RSS 2.0
feed. You can skip to the end and leave a response. Pinging is currently not allowed.