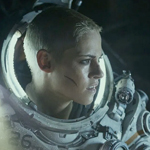 When the trailers for UNDERWATER surfaced (get it, surfaced) it seemed kinda out of nowhere. Never heard this was coming, and it looks like underwater ALIEN (AQUALIEN?), it has long-since-cancelled T.J. Miller in it, maybe it's been sitting on the shelf forever, and that's why it's coming out in January? Then people started seeing it and saying it was crazy and fun, or actually good, so I made the effort to see it.
Well, don't get your hopes up. It's fine. I enjoyed it. But we didn't get to see it with low expectations. I don't know where the craziness reports come from – I can't think of what would be surprising in it, unless you don't know Kristen Stewart (CATCH THAT KID) is a good actress.
She's the main attraction playing Norah, a mechanical engineer on an underwater station deep in the Mariana Trench. She happens to be awake and brushing her teeth the morning that her section of the station gets breached. As she runs from the flooding she tries to wake the others, but only a dude she barely knows named Rodrigo (Mamoudou Athie, Grandmaster Flash on The Get Down) makes it safely into the other chamber where she opens a panel and rewires it to close a door right before some others make it. (read the rest of this shit…)
VERN has a new action-horror novel out called WORM ON A HOOK! He has been reviewing movies since 1999 and is the author of the film criticism books Seagalogy: A Study of the Ass-Kicking Films of Steven Seagal and Yippee Ki-Yay Moviegoer!: Writings on Bruce Willis, Badass Cinema and Other Important Topics as well as the crime novel Niketown.