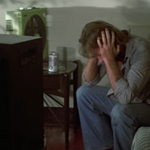 I don't know about you guys, but I'm still not a member of the Chuck Norris Fan Club. (Unless somebody got me a membership as a prank, but as far as I know that's not true.) But I decided to watch his first movie with Cannon (a relationship that also produced a prequel, a sequel, a DELTA FORCE, a second DELTA FORCE, a job for his son on a third DELTA FORCE, and by far his most entertaining starring vehicle I've seen, INVASION U.S.A.). This one also has a political message based on a right wing pet cause, but it can't quite match the outlandish cartoonishness of INVASION, and it's much more emotionally manipulative. But I kinda enjoyed it.
The great music by Jay Chattaway (MANIAC, Star Trek: The Next Generation) gets your American flag erect during the Vietnam War opening where Braddock and his men patriotically terrorize some guerrillas until he decides to dive onto an enemy (and the camera) holding two grenades, only to wake up from a dream in the present. (read the rest of this shit…)
VERN has been reviewing movies since 1999 and is the author of the books SEAGALOGY: A STUDY OF THE ASS-KICKING FILMS OF STEVEN SEAGAL, YIPPEE KI-YAY MOVIEGOER!: WRITINGS ON BRUCE WILLIS, BADASS CINEMA AND OTHER IMPORTANT TOPICS and NIKETOWN: A NOVEL. His horror-action novel WORM ON A HOOK will arrive later this year.