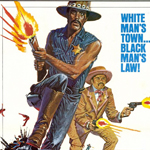 Don't worry, this is the last of the pre-DJANGO slavery-themed reviews. I don't want to ruin Christmas or anything, but I gotta finish the trilogy.
BOSS was originally called BOSS [word white people shouldn't say], but it was easy to change to just BOSS and therefore it's the only one of the Charley trilogy available on a legitimate DVD. In this one it's still Fred Williamson as Charley, but he's just called "Boss." (Or maybe "Bas" like Bas Rutten?) And D'Urville Martin is still his sidekick but he's called "Amos" instead of Toby. Maybe it's an alias. At this point they've left behind their town in Mexico and are traveling bounty hunters. But it definitely is meant as a sequel because Williamson says so on a title card added to the DVD where he explains why he approves of the use of the n-word in the title, dialogue and theme song. (read the rest of this shit…)
VERN has been reviewing movies since 1999 and is the author of the books SEAGALOGY: A STUDY OF THE ASS-KICKING FILMS OF STEVEN SEAGAL, YIPPEE KI-YAY MOVIEGOER!: WRITINGS ON BRUCE WILLIS, BADASS CINEMA AND OTHER IMPORTANT TOPICS and NIKETOWN: A NOVEL. His horror-action novel WORM ON A HOOK will arrive later this year.