August 9, 1985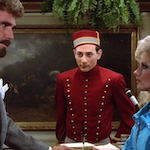 In an attempt to put a finger on the ineffable singularity of PEE-WEE'S BIG ADVENTURE, let us consider the Rube Goldberg machines of Summer of 1985 so far:
THE GOONIES. First scene after the prologue. Mikey pulls a string that drops a bowling ball into a bucket and sets off a chain reaction that involves a balloon, a hen, a football and a sprinkler, just to pull open the gate for Chunk. Why? I don't know. Because it's cute. Its cool. Kids like it. No reason needed.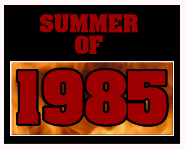 BACK TO THE FUTURE. Opening titles. A series of timers act as Doc Brown's breakfast machine. The coffeemaker turns on, an alarm swings an arm that flips a switch that turns on the morning news, the toaster is toasting, a can of dog food slides down to a robot arm that swings around to a can opener that opens it and it dumps into a dog bowl. It's not as elaborate or chain reaction based as the GOONIES machine, but it's more organic to the story because it's the work of an inventor who's a genius and a nut and interested in time. And also maybe Steven Spielberg is just into these things, since he produced both movies.
And now, PEE-WEE'S BIG ADVENTURE. Again, the first scene after the prologue. Another breakfast machine. After getting out of bed in the morning, Pee-wee Herman (Paul Reubens in his followup to MEAT BALLS PART II) tells his dog Speck, "Come on, let's get some breakfast!" He turns on a fan and lights a candle under a string. The reaction involves a row of interlocked pinwheels, a dropping anvil, a toy ferris wheel… this one could be an homage to the one in CHITTY CHITTY BANG BANG, but with the addition of kitsch: an egg rolls through a tube and is cracked open by a Drinking Bird, wooden models of dinosaur skeletons carry bread slices and squeeze oranges, an Abraham Lincoln statue flips pancakes. As the meal is made (and the dog food is served) the orchestral score builds from dreamy, tinkly chimes to a booming, stomping anthem. And in the end the food is somehow plated with eggs for eyes, a strawberry for a nose and bacon strips for lips. Pee-wee calls him "Mr. Breakfast," and they seem to already be acquainted. For his own breakfast, Mr. Breakfast requests Mr. T Cereal. (read the rest of this shit…)
VERN has a new action-horror novel out called WORM ON A HOOK! He has been reviewing movies since 1999 and is the author of the film criticism books Seagalogy: A Study of the Ass-Kicking Films of Steven Seagal and Yippee Ki-Yay Moviegoer!: Writings on Bruce Willis, Badass Cinema and Other Important Topics as well as the crime novel Niketown.