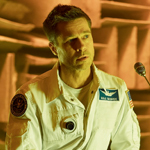 I'd heard that AD ASTRA might be one of those movies like THE AMERICAN or SOLARIS that is a little slow or arty or whatever but since it's a big release with a big movie star from OCEAN'S ELEVEN a bunch of people who aren't comfortable with that type of movie see it and either get real disappointed or fall asleep about ten minutes in. That might've been a myth, because it got a B- Cinemascore, which is the same as HUSTLERS. But I guess hearing that got me primed because it was alot more exciting than I expected!
This is the first movie I've seen by James Gray (LITTLE ODESSA, THE YARDS, WE OWN THE NIGHT, TWO LOVERS, THE IMMIGRANT, THE LOST CITY OF Z), but I know he has a reputation for quiet and thoughtful dramas. And honestly I didn't expect as much sci-fi as we get – it's a little further into the near future than I thought. From the trailer it looked more like a straight astronaut drama. And I got nothing against astronauts, there are many fine astronauts, but I think I was born without that gene many guys have that makes them involuntarily swell up with patriotism any time they think about a person or object that has been to the moon. Or maybe I just didn't see THE RIGHT STUFF at an impressionable age. (read the rest of this shit…)
VERN has a new action-horror novel out called WORM ON A HOOK! He has been reviewing movies since 1999 and is the author of the film criticism books Seagalogy: A Study of the Ass-Kicking Films of Steven Seagal and Yippee Ki-Yay Moviegoer!: Writings on Bruce Willis, Badass Cinema and Other Important Topics as well as the crime novel Niketown.