August 9, 1985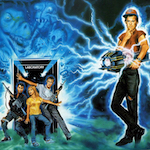 The thrilling conclusion to the teen science comedy trilogy of August 2-9, 1985 is the one I knew even less about than REAL GENIUS. I can say that because all I knew was the picture of aliens I saw in the one page article in my trusty July, 1985 Cinefantastique, but I forgot it said that scene was cut. So I had negative knowledge of what the movie was about.
Like REAL GENIUS, it has a cold open in a military facility to establish what the kids will be dealing with. But this scene is in 1957 when President Eisenhower (Robert Beer, who also played him THE RIGHT STUFF) is dragged out of bed to be shown the UFO the boys captured. He tells them to get rid of it. Cut to 1985.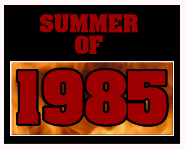 From that point on it's closer to WEIRD SCIENCE than REAL GENIUS, because it's another one about high school kids accidentally unleashing sci-fi craziness in their small town (in Arizona, I think). A major difference from the other two is that the main character, Michael Harlan (John Stockwell, CHRISTINE) is by no means nerdy. I don't think he's a popular kid either, he's just a broody, gruff, kind of dim but basically nice dude who's not really interested in anything but working on cars. His favorite singer is Bruce Springsteen, he drives a 1968 Pontiac GTO with a huge blower, and when science fiction causes it to break down outside of town he refuses to walk home because he thinks someone will see him and question his mechanic skills. (read the rest of this shit…)
VERN has a new action-horror novel out called WORM ON A HOOK! He has been reviewing movies since 1999 and is the author of the film criticism books Seagalogy: A Study of the Ass-Kicking Films of Steven Seagal and Yippee Ki-Yay Moviegoer!: Writings on Bruce Willis, Badass Cinema and Other Important Topics as well as the crime novel Niketown.