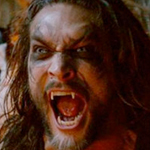 The 2014 werewolf romp WOLVES did not get a wide release, and has a 25% on Rotten Tomatoes. But I got stuck scrolling for a horror movie to watch one night, found it on that ad-supported streaming service Tubi, and remembered it had Jason Momoa in it, so I watched it. And it fulfilled its duties.
I'm sure WOLVES – which is the directorial debut of X-MEN/THE SCORPION KING/X2/WATCHMEN screenwriter David Hayter – was greenlit due to the popularity of TWILIGHT, and viewed with skepticism by potential viewers for that reason. It has minor similarities that I'll mention later, but it's a completely different tone, if anything trying to offer an alternative.
It's the story of Cayden Richards (Lucas Till, MONSTER TRUCKS, MacGyver in MacGyver, and Havok in X-MEN: FIRST CLASS, DAYS OF FUTURE PAST and APOCALYPSE), a dude whose perfect life as high school quarterback in a small Texas town goes to shit when he discovers his werewolf side during attempted car sex and is suddenly wanted by the police for the munching of his parents. So he hops on a motorcycle (wearing one of those Tom Cruise style leather motorcycle jackets) and hits the road. (read the rest of this shit…)
VERN has a new action-horror novel out called WORM ON A HOOK! He has been reviewing movies since 1999 and is the author of the film criticism books Seagalogy: A Study of the Ass-Kicking Films of Steven Seagal and Yippee Ki-Yay Moviegoer!: Writings on Bruce Willis, Badass Cinema and Other Important Topics as well as the crime novel Niketown.