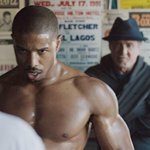 The world is hard and shitty sometimes, but also sometimes it's beautiful, and with some luck, some talent and some very hard work, unlikely things can happen. For example, what are the chances that director Ryan Coogler, after his true story police shooting drama FRUITVALE STATION won awards at Sundance and Cannes, would want to use his window of opportunity to pitch a movie about Apollo Creed's son? And then what are the chances he'd convince Sylvester Stallone to play Rocky Balboa in it and a studio to make it? And finally what are the chances that it would both honor the history of the ROCKY movies and chart its own path to be something new? I don't know what the odds are, but CREED beat 'em.
Michael B. Jordan (who also starred in FRUITVALE) plays Adonis "Donnie" Johnson who, as an orphaned teenager in and out of group homes, discovered he was the son of the most famous boxer in the world. Moving to the Creed mansion with his father's wife Mary Anne (now played by Phylicia Rashad instead of Lavelle Roby or Sylvia Meals) takes his life straight from ROCKY to ROCKY III. Hungry to comfortable. As an adult he's successful in a corporate job, but sneaks off to Tijuana for small time fights.
At his dad's home gym Delphi in Los Angeles (who must've inherited some money from him if that's supposed to be the same gym from III) nobody will train Adonis. It may be at Mrs. Creed's request or maybe they just don't believe in him, but they think it's too dangerous. His father died in the ring. I love how much of this film's drama comes specifically from what happened in the most ridiculous sequel. Maybe this will redeem IV for those who think it ruined the series by removing Apollo from it. (read the rest of this shit…)
VERN has a new action-horror novel out called WORM ON A HOOK! He has been reviewing movies since 1999 and is the author of the film criticism books Seagalogy: A Study of the Ass-Kicking Films of Steven Seagal and Yippee Ki-Yay Moviegoer!: Writings on Bruce Willis, Badass Cinema and Other Important Topics as well as the crime novel Niketown.